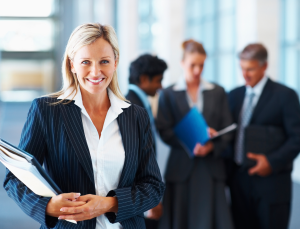 Power comes in many forms, and personal power is only one of them. Most often we see positional power, the power that comes from a title of influence. When abused, a perpetrator targets a victim that lacks his power, thus giving him the advantage to control and persuade.
But I want to point out a more genuine power that can play in this game to level the playing field and prevent the abuse of power from happening in the first place. It's a type of power that every women can develop and nurture as her own. Personal power is the influence that a woman has developed through a variety of assets, with positional title only being one of them.
Here's a simple reminder from Katie at SkirtStrategies.com in video form as well.
Personal power can be developed when a woman is well-connected. She knows who to go to for resources or to get a problem solved. Or a woman can have terrific influence when she has accomplished a unique talent, such as the ability to build a world-class team, or to lead a successful fundraiser. If a woman has extensive knowledge, like a sought-after technical capability or a unique experience in her past.
But sometimes we just don't see it that way, or we don't take advantage of it. Certainly, what goes on in our heads is affected by the self-talk we have around our positional power, or the lack of it. We downgrade all those other opportunities for influencing the world around us and forget to be confident with who we are.
Prevent being taken advantage of in the first place – exhibit your personal power and exude confidence. It's great for boosting your leadership image anyway.
Read more about the 5 Be's of Power & Influence.