[powerpress]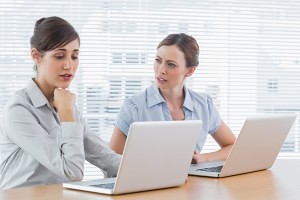 Email etiquette is important when trying to convey tone, style and professionalism in an email (our most common form of communication in business).  In this podcast Katie and Carol discuss the importance of using correct etiquette when emailing both for business and personal communication.  Here are just a few tips from their book…
Never hit "Reply All" on an email that may incriminate someone or may be interpreted as critical.
Handle sensitive matters face-to-face, never electronically.
Use efficiency in your emails. Write a summary at the top so that the reader gets a quick understanding of the entire message.
Rarely use the high priority flag in emails. It is seen as overreacting.
We could go on and on about emails and other emerging electronic doodads. These four tips are the ones we thought may be most often violated and needed reminding.
Katie produced an email etiquette book for a client in the legal industry who was concerned about the professionalism and the brand their emails portrayed. Get your FREE Email Etiquette E-Book here! A $22 value.